By Ashley Zhou
On Nottawa Creek, a tributary of southwest Michigan's St. Joseph River, tall stalks of wild rice form a dense grassland atop the water, making the shallows nearly impassable by kayak.
To the untrained eye, the 10-foot-tall stands of slender, flowering grass may look like weeds. To John Rodwan, they're a sight to behold.
Rodwan is the environmental department director of the Nottawaseppi Band of Huron Potawatomi, a tribe whose reservation is in Kalamazoo County. This wild rice bed — part of a 30-mile stretch managed by the Nottawaseppi — is part of an effort to restore a tribal staple food once common in Michigan, but wiped out by human development.
"We're living with the sins of our fathers and grandfathers that straightened the channels, drained the lands and polluted the rivers," Rodwan said. "Rice is in its renaissance now."
This article is part of The Great Lakes News Collaborative, which includes Bridge Michigan, Circle of Blue, Great Lakes Now at Detroit Public Television, and Michigan Radio. It unites newsroom resources to report on the most pressing threats to the Great Lakes and drinking water supplies, including pollution, climate change, and aging infrastructure. The independent journalism is supported by the Charles Stewart Mott Foundation.
Amid growing concern about the loss, tribes including the Nottawaseppi are leading a statewide effort to revive the native grain.
From Michigan's southern border to the western Upper Peninsula, restoration experts are tending to rice beds, hoping to expand the plant's footprint across the state. But tribes face an uphill battle because of climate change, pests and policy gaps.
"We lost a huge amount of rice that was here," said Barb Barton, the author of "Manoomin: The Story of Wild Rice in Michigan" and a recently retired endangered species biologist for the state.
"The people in our lives today, most of them don't have memory of these wild rice beds that were here; they don't realize what's gone."
Wild rice, or manoomin (mah-NOO-mehn) in the Ojibwe language, is a grain native to North America that was once common across the Great Lakes region.
The plant is central to the story passed on through generations of Ojibwe people to explain how their ancestors arrived in the Great Lakes basin. According to lore, prophecy told the Ojibwe to move west from the Atlantic coast and find a new home where food grows on the water.
What they found was wild rice. It became a staple food for Ojibwe people, who harvest it in September by gently bending the plants over canoes and tapping the loose seeds with cedar sticks called rice knockers.
"Rice was part of our beginning, it goes as far back as our stories tell us," said Wanda Perron, a member of the Bay Mills Indian Community in the eastern Upper Peninsula.
These days, wild rice is hard to find. There are no statewide statistics, but Michigan was once rife with beds, some of which were larger than a thousand acres. Now, the beds are smaller and distribution is much smaller.
"We don't know exactly what it looked like pre-contact (from European colonists), but we're quite sure it was prevalent, abundant and a sizable portion of our life," said Rodwan, the tribal environmental director.
Huge swaths of wild rice were destroyed in the early 1990s when wetlands were dammed and drained to support farms, settlements, mining and logging.
Wild rice grows best in shallow, clear, gently flowing water with rich sediment at the bottom.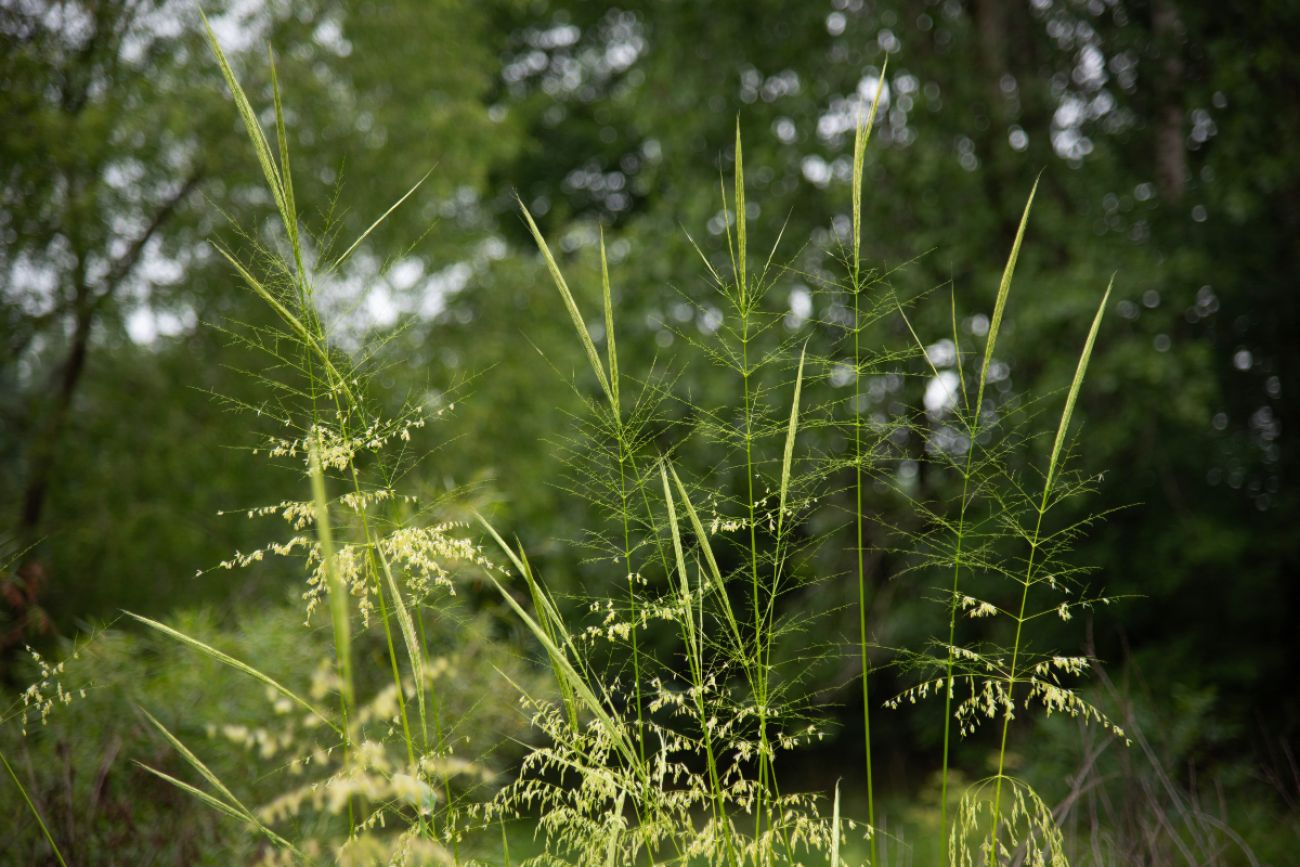 In July, the wild rice plant began the flowering stage — sprouting long spikes of rice with thin and fluffy white flowers growing off an abundant leaf stalk. (Bridge photo by Clara Lowe)
Houghton Lake in Roscommon County is a good example. Michigan's largest inland lake, it's now known for boating and fishing, but Houghton was once a vast, shallow wetland that contained one of the largest rice beds in the state. It was dammed in 1926 to prevent flooding of nearby properties, according to the Houghton Lake Improvement Board, raising the water level in parts of the lake too high for wild rice growth.
There are other threats, too:
Logging and mining carved riverbanks, releasing chemicals and destroying rice ponds.
Populations of geese, who feast on wild rice, have ballooned
Climate change is causing greater variations in the water level of inland lakes. That harms wild rice plants, which fare best in water between six inches and three feet deep.
Native people consider wild rice sacred to their heritage, so they've banded together to combat its disappearance.
Several years ago, Michigan's 12 federally-recognized tribes, state departments and federal agencies formed the Michigan Wild Rice Initiative Team to prioritize wild rice protection and restoration.
In 2021, the U.S. Army Corps of Engineers partnered with tribes to study water, nutrients and sediment in 12 Upper Peninsula lakes to determine ideal conditions to grow wild rice.
Last year, Michigan allocated $100,000 to the wild rice initiative for further study.
With precious little information about where Michigan's remaining rice beds exist, mapping is a first crucial step. Rodwan uses aerial and underwater drones to track the expansion and movement of wild rice beds in waterways within the tribe's territory.
Michigan's wild rice stocks are so low, most tribes must purchase their seeds from tribal harvesters in other Midwestern states.
In that regard, the Nottawaseppi Band of Huron Potawatomi is lucky. At the tribe's Nottawa Creek restoration project, the wild rice beds are healthy enough that tribal members rely entirely on locally-grown rice for annual re-seeding efforts that aim to expand the beds over time.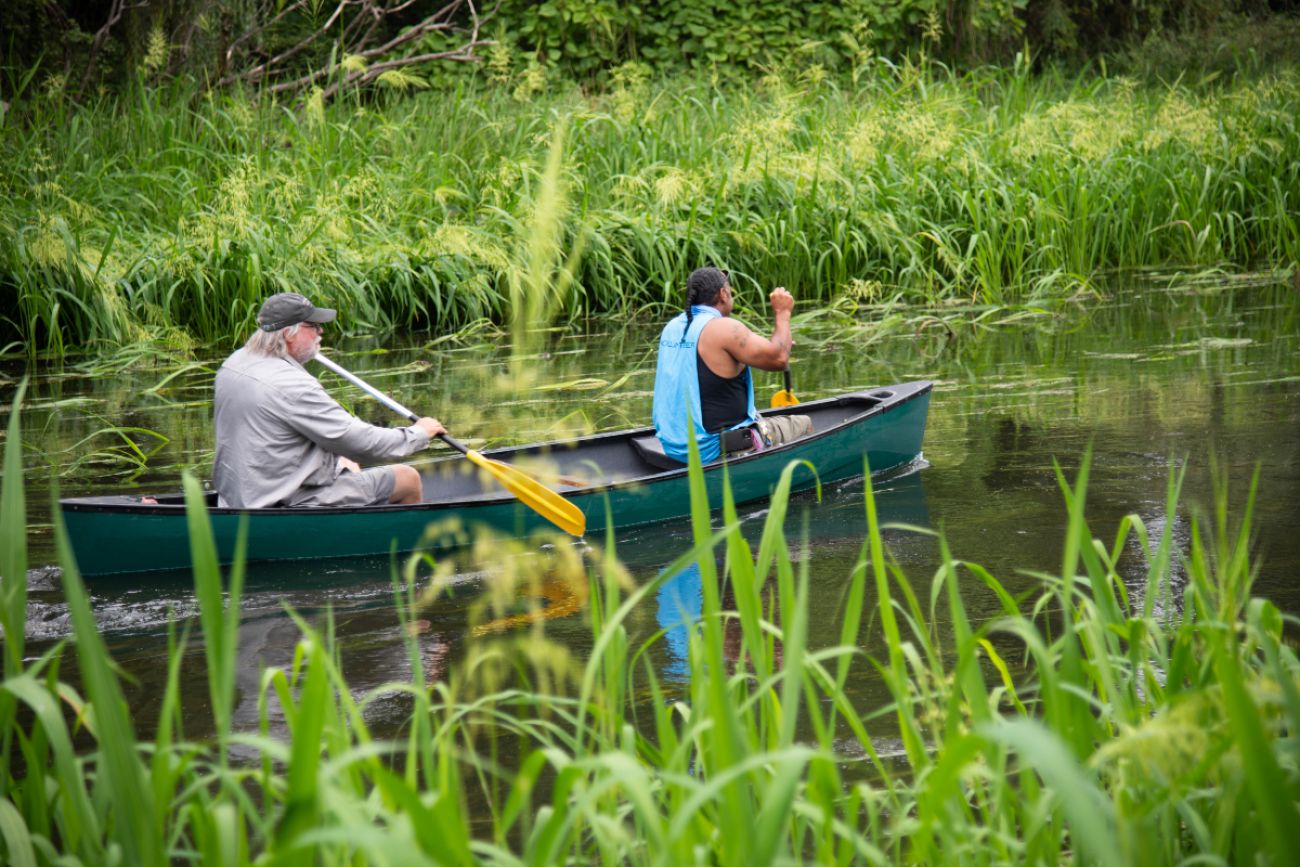 Nottawaseppi Band of Huron Potawatomi volunteers kayak along Nottawa Creek in Branch County, seeking the previous night's flooding damage. (Bridge photo by Clara Lowe)
But the seeding still must be done by hand, tossing handfuls of the wild rice throughout the waters, because the rice beds are still too fragile to self-seed. Rodwan said his goal is to get the Nottawaseppi's beds strong enough to sustain themselves.
Similar efforts are taking place across the state.
At Waishkey Bay in the eastern Upper Peninsula, the Bay Mills Indian Community reseededor tossed 2,700 pounds of wild rice into the bay last year. Many tribes host workshops or rice camps to spread awareness about their efforts.
"We're bringing in anybody who wants to be involved during those reseeding efforts because the more hands we have tossing seed into the water, the easier it is on everybody," said Frank Zomer, lead inland fisheries biologist for the Bay Mills Indian Community. "It turns into this really cool community event."
A new bill in Lansing aims to further raise the plant's profile by declaring it the official grain of Michigan.
Sponsored by Rep. Carrie Rheingans, D-Ann Arbor, and others, the bill has yet to clear committee, and a similar effort last year failed to clear the Senate.
Rodwan said restoring wild rice back to its original abundance would be nearly impossible considering human development.
Beyond that, tribal officials who spoke to Bridge Michigan cited inconsistent funding and lack of statewide policy regarding rice harvest as barriers to a full recovery.
But asRodwanstood on the banks of the Nottawa Creek on a humid day, he said it's worth fighting to protect what's left — and maybe even modestly expand it.
"From a tribal perspective, the interconnectedness is all right here," Rodwan said. "As Westerners, I think we're just beginning to understand the overall ecologic value and to bring back diversity is key to our success."
Ashley Zhou has an environmental reporting internship under the MSU Knight Center for Environmental Journalism's diversity reporting partnership with the Mott News Collaborative. This story was produced for Bridge Michigan.